The Office Design Trends We're Seeing for 2020
December 16, 2019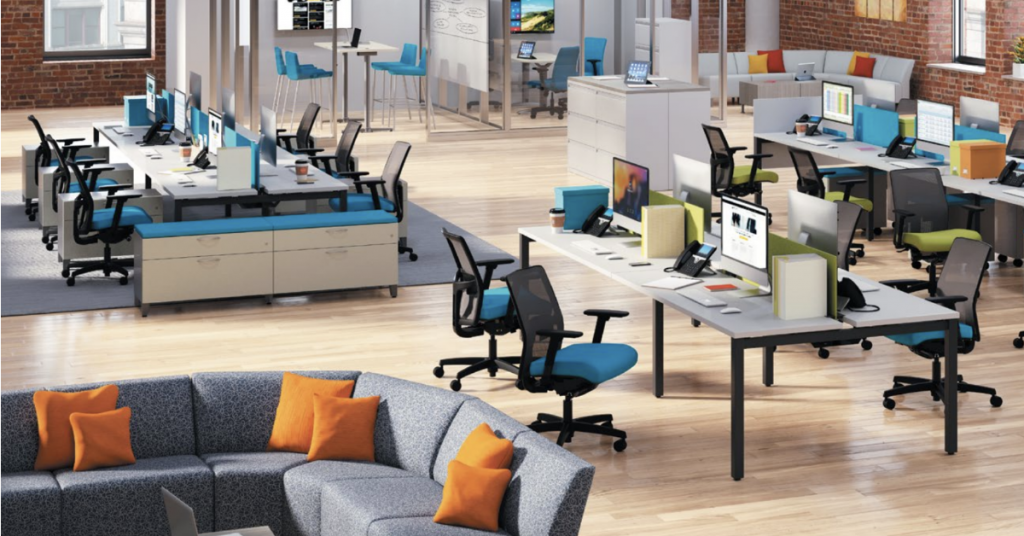 The workplace is a fluid space, growing, changing, and adapting to meet the evolving needs of businesses and the workforce. This in itself is a trend. While 2019 saw an increase in office design elements such as open office layouts, hot-desking, and universal design, 2020 will bring even more efforts for adaptability in the workplace, continuing to build on these trends and beyond.
The Changing Workplace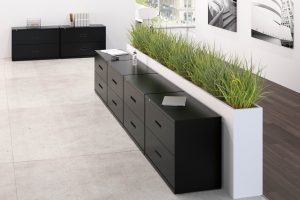 Dynamic spaces, the practice of creating multi-purpose work offices, continues to gain momentum and takes on some elements of the modern coworking space. These elements include:
Multi-functioning work areas or open office layouts
Moveable dividers, large plants and tall book shelves to create separate spaces.
Tech equipment, such as televisions, video equipment and more, to meet demands of videoconferencing, loop in remote workers and communicate with clients.
Dynamic flexibility takes dynamic spaces into a whole new realm, with features such as:
Multi-functional furniture that's light weight and easily moveable (with wheels).
Ergonomics and universal design to accommodate special needs and promote health and well being
Space Optimization
Adjustable lighting
Let's take a look at how to incorporate some of these exciting elements!
Open Office Layout
The open office layout is a 180° turn from the traditional secluded offices and cubicles that separate, isolate, and confine employees. Your team is visible, making collaboration easy and natural while building camaraderie. Another big draw—flexibility! An open layout allows people to pull up chairs and gather around one person's desk for a brainstorming session or hold an impromptu office meeting without the stuffy conference room vibe.
Open layouts encourage movement and physical activity, which improves health, reduces stress and promotes overall well being. It's great for your bottom line, too! Open layouts are more energy efficient and require less furniture and construction.
Ergonomics
While the practice of ergonomics isn't new, more and more offices are realizing how important it is to reduce workplace injuries and prevent painful, chronic conditions. We've all experienced "tech neck," tight shoulders from being hunched over a computer or back issues caused by uncomfortable chairs.
From flexible chairs to sit-to-stand desks, ergonomic furniture options are better than ever! And ergonomics goes way beyond the physical to cognitive and organizational practices, as well. Cognitive ergonomics zeroes in on matching the use of products with the cognitive capabilities of users, and includes factors such as human reliability, work stress, and interactions between people and tech devices such as computers and laptops.
Universal Design
Universal design (UD) creates a space that's suitable for people of all abilities. For example, sliding glass doors and wheelchair ramps are easily accessible for anyone, but necessary for someone in a wheelchair or with a physical disability. The rate of people with disabilities in the workforce continues to increase, and companies are eager to employ UD to make their workspaces user-friendly for everyone. More than ever, employers are woke to "invisible" conditions, such as learning disabilities, mental health conditions and neurological disorders such as ADHD and autism.
Hot Desking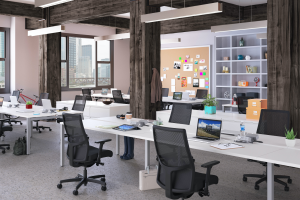 The practice of hot desking, or sharing desks and work spaces, continues to increase as more and more people work remotely. Hot desking also works well for employees who travel to multiple company locales, clients who need a work space, and part-timers. It may sound complicated, but employers who provide work spaces with desks, office equipment like printers, charging stations, and other basics can optimize space while allowing multiple employees to work comfortably in the office. If their office needs are met, employees are more likely to buy into this growing practice.
BONUS: Providing an employee listing with contact info so team members can find one another makes collaboration and networking easy and stress-free.
**Hot Desking Tip** A hot desking software program to reserve desks is key to ensure everyone has a work space when they need it!
More 2020 Trends!
While major office trends like moveable furniture, long desks and open spaces are important, don't forget to choose one or more of these popular office features for your space!
Feeling whiplashed about trends that may seem contradictory? While wood is definitely in, offices in 2020 will likely be implementing more lightweight, adjustable furniture. Eclectic mixing helps you check all the boxes! Choose a few key pieces in solid wood. In heavily used spaces, moveable furniture makes changing a work area into a conference room a breeze. The beauty of today's office décor is that you aren't limited to just one look or one material.
Start off 2020 by embracing these office trends that can create the most out of your work space, increase employee satisfaction and productivity, and attract top talent!
Looking to incorporate these trends in your office in 2020? The experts at Nolt's will help you find exactly what you need. Stop by our showroom today!