What Traditional Offices Can Learn From Coworking Spaces
November 27, 2019
The buzz about coworking spaces is legit. Coworking is the new way to work and it certainly seems like it's a trend that's here to stay.
That doesn't mean, however, that traditional offices are going away…they just need to adapt if they're going to survive.
Whether it's the more modern approach to office design, the encouragement of interdepartmental collaboration or the development of a more relaxed and inclusive culture, there is a lot to learn from coworking spaces. Incorporating these ideas into your traditional office can give your team the best of both worlds.
Coworking uses an open floor concept that allows multiple professionals across a variety of industries to work together. They not only share space, but also office equipment, client waiting areas, conference rooms, a receptionist and a kitchen. But coworking goes way beyond a place for people to do their jobs, however. The emphasis is on how they work.
What is Coworking or Shared Space?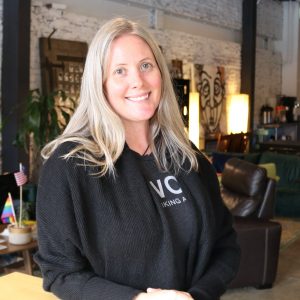 As the owner of The Candy Factory, a coworking space based in Lancaster, PA, Anne Kirby champions the shared-space concept because of its unique ability to help people connect, collaborate, network, and learn. And she practices what she preaches. Her boutique marketing firm, The Sweet Core, is headquartered out of The Candy Factory.
"Coworking has always meant community to me," Anne says. "From collaboration to connections, the 'co' in coworking are two powerful little letters. They stand for everything that makes coworking so amazing. The power of real coworking is not bricks and mortar, it's the people who show up each day and how we interact. Coworking is how we come together to imagine, be creative, thrive, and connect."
The demand for coworking space has greatly increased over the last five years, with its popularity more than quadrupling between 2014 and 2019.  Coworking appeals to telecommuters, freelancers, nonprofits, frequent travelers, independent contractors, and startups, as well as small to medium enterprises (SMEs).
The Benefits of Coworking
Coworking creates a community, which fosters brainstorming, provides mentoring opportunities, and eliminates isolation. Whether it's playing chess for a brain break or chatting with a colleague from another department over lunch, the benefits of coworking have less to do with space and more to do with a people-centered philosophy.
"Our people are what makes coworking so unique, and the community is our greatest asset, not our space," Anne says. "While we work hard to provide resources like a cool, inspiring place to gather and work, we also focus on making an impact in the lives of our internal and external communities."
Coworking spaces offer relevant resources, access to events, and opportunities to make connections, she says.
"We're social beings and being able to socialize in a work setting is important for morale and collaboration," she says. "Many companies ignore this but it's important to create opportunities for people to really connect and form relationships."
Adapting the Coworking Philosophy
Implementing coworking ideas involves more than just changing up the furniture in your office space, Anne says, although the right furniture does play a key role.
"True coworking is about building community and not just about filling empty space," she says. "I believe a coworking community can be created almost anywhere. It just takes leadership that's committed to the philosophy and looking to make an impact in their wider community."
You can incorporate these coworking principles into your office space right now:
Choose a communal area for people to take a break, grab a cuppa, and connect. "Gathering spaces are key to the coworking philosophy," Anne says.
Clearly delineate spaces but don't isolate them. Tall plants, floor lighting and bookcases serve double (or triple) duty by creating borders for spaces in an aesthetically pleasing and functional way instead of off-putting cubicle walls.
Provide a space for communal working. Some folks are more productive with a laptop on a couch or at a café-style table surrounded by colleagues. They thrive on the energy, and it's a natural setup for collaboration!
A "work-how-you-like" approach: some people thrive at a traditional desk while others are most productive using contemporary lounge seating.
Hotdesking provides an appealing option for team members who travel frequently or work remotely.
Outfitting Your Space with Furniture for a Coworking Vibe
While a people-centered approach is the most important aspect of coworking, the right furniture choices can help alter the atmosphere of your existing traditional space. You don't need a major furniture overhaul to incorporate coworking elements in your workspace. Consider these options:
Anne recommends looking around your office for unused or underused spaces.
"Decide how the space could be used or come alive," she says. "Make it a fun project for your team. Could it become a gathering space or creative space for brainstorming?"
Getting employees' feedback and buy-in is essential, Anne says.
"Allow them to actively participate in the process," she suggests. "Our members at The Candy Factory give us feedback, and our space evolves based on their needs."
By making some key changes to your traditional office space, your team and your business can benefit from the principles of coworking.
Interested in taking the first step towards implementing the coworking philosophy? Stop by the Nolt's Office Furniture showroom to speak to our knowledgeable staff today!