Setting Up and Outfitting Your New Office in 2020
December 23, 2019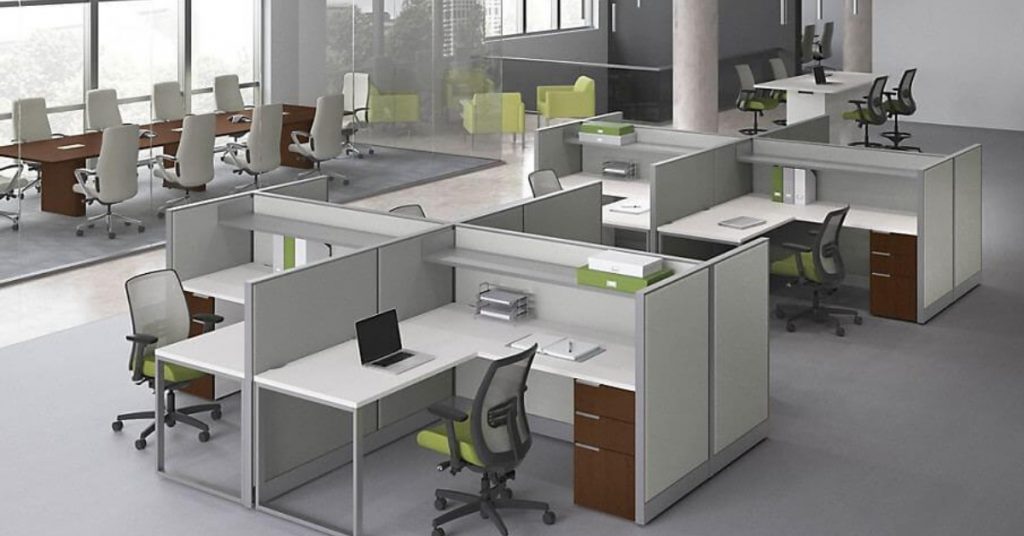 With the latest in office trends and furniture exploding on the scene for 2020, it's a great time to think about setting up and outfitting your new office in the new year!
Modernize those dull, outdated cubicles and create a waiting room that wows. Design a productive conference room and provide ergonomic work stations for your team. With these guidelines, it's easier than ever to organize an office that's forward-thinking and appeals to a wide variety of talent, plus provides your employees with the space they need to collaborate, be inspired, and produce their best work!
Office Furniture Essentials for Small Businesses
For start-ups and small businesses with three to five people, it's easy to think you only need a few desks and chairs. But less people does not necessarily mean fewer essentials. Larger businesses can learn from this, too. Use these guidelines as a blueprint to provide office furniture essentials for your team, so they can thrive and succeed!
Determining square footage is key so you don't go overboard or end up cramped in a tiny space.
Versatile seating options like trendy perch chairs, ergonomic chairs for adjustability, and oversized comfy leather couches please every taste!
Storage furniture like one central filing cabinet or several small ones serve double duty. Paired with large plants and stools, they can delineate work space areas, too!
Multi-use meeting spaces for small businesses can accommodate team meetings, client conferences, brainstorming sessions, and more!
Modernize Those Boring Old Cubicles
Office cubicles can be confining, isolating, and messy. But sometimes a cubicle-style set up works best for an office. Modernize your old cubicles with these hacks:
Use modern glass dividers, a sleek look which allows accessibility while still providing privacy.
Stagger sizes to avoid a cookie-cutter look and give your team the level of accessibility they need.
Design an office layout that's partly open. Furnish cubicles for those who need extra privacy or like the traditional style. Make it easy for your team to move back and forth for meetings, collaborations, and independent work.
Set Up the Ideal Ergonomic Work Station
If you aren't sold on ergonomics by now, it's time to up your game! Ergonomic work stations provide your employees with chairs, desks and other furniture that can reduce back injuries, neck and shoulder pain, and other office injuries.
Look for ergonomic chairs with adjustable height and armrests, plus lumbar support. Available in many price points, these chairs are worth the investment. No one wants to be stuck in an uncomfortable seat all day! Provide the right chairs for your team for their best health and maximum productivity.
Sit-to-Stand Desks offer the best of both worlds! Adjustability features let employees choose when they want to sit and when they need to stretch their legs and work while standing.
Encourage healthy office habits like walking meetings and reminders for screen breaks!
**Bonus Tip** A picnic table or bistro table with chairs allows your team to eat al fresco while they breathe in some fresh air, enjoy the weather, and recharge before heading back to work!
Break Rooms that Build Productivity and Camaraderie
Break rooms for meals, snacking and coffee breaks are a huge part of appealing to new talent as well as keeping your existing team happy! Why? Just like a kitchen is the hub of a home, break rooms naturally bring people from different departments together to take a brain break, recharge with a snack, and catch up with colleagues. This camaraderie encourages team building, boosts morale, and allows your employees to eat inexpensively.
Let your budget determine the amenities you provide. Healthy snacks, juices and seasonal treats up the ante! Music, accessible charging stations and other extras work together to create a vibe that's enjoyable and relaxing for your team while they take a well-deserved break.
Design an Exceptional Waiting Room
It's often the first room clients, potential talent and off-site colleagues spend time in. And it speaks volumes about your corporate culture! A waiting room isn't a place to sit and stare at a phone while waiting to be called on. It's a chance to show people what your business stands for and sets the tone for meetings, collaborations, and interviews. It's like a first handshake or hello. Make an impression by creating a welcoming, comfortable place to sit, provide coffee and water, and give people an idea of who you are as a business!
Waiting room styles and colors reflect your image. Choose luxe, dark hues, hipster art work or chic, modern furnishings to convey your brand.
Make sure your receptionist is easily accessible to answer questions.
Think through your layout to avoid traffic jams and provide comfort and privacy for your guests.
Key Components of a Productive Modern Conference Room
That stuffy old conference room has people dozing off or daydreaming. Bring everyone back to the party with a modern conference room with updated features, the latest tech gear, and an atmosphere that's invigorating and productive!
Make your team comfortable with ergonomic seats that provide comfort and reduce fidgeting.
Choose a conference room table that suits your team's needs and brand.
Extra seats, like trendy perch stools and stackable chairs expand your conference room when you need to accommodate a larger crowd. Some people are more comfortable at a conference table while others prefer to sit back a bit and enjoy some space.
A conference calling system with sound equipment allows remote workers and colleagues to fully participate in meetings while flat-panel TVs or stream-ready monitors make visually stunning presentations.
Whether you're planning to overhaul your entire office, move to a brand new space or incorporate workspace trends into your existing office, remember that the organization and design reflect your brand, how you value your employees and the culture you want to create. It's about so much more than furniture!
Kick off 2020 by stopping by Nolt's to speak with our experts on office design. We'd love to help you customize your new office today!