Six Effective Tips for Spring Cleaning Your Office!
March 16, 2020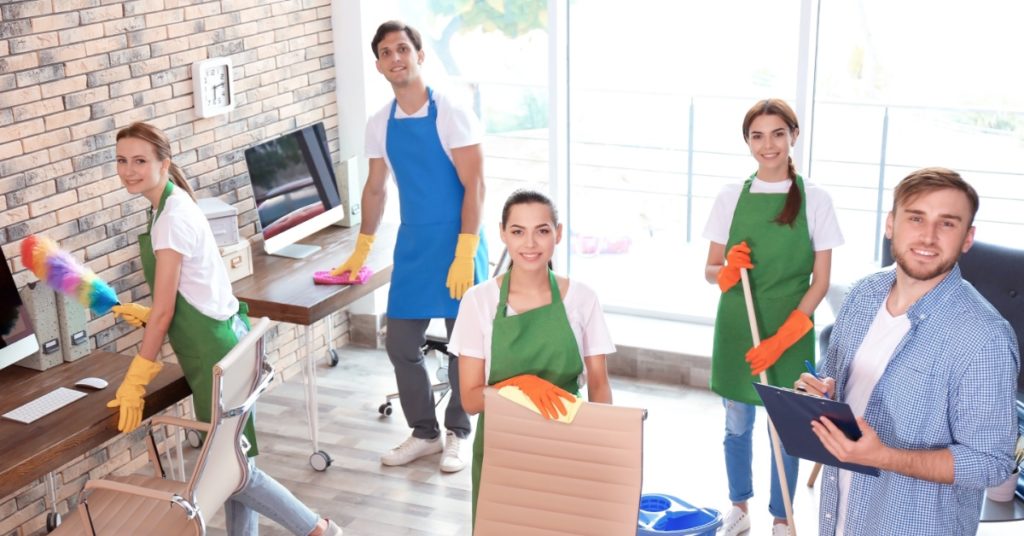 Spring is springing! Everyone's looking forward to outdoor fun, smelling the sunshine, and um, office cleaning?
That's right! Along with blooming flowers and warm weather, spring cleaning is part of the season when we get rid of stuff we don't need, give our spaces a good scrubbing, and start anew in anticipation of summer. A great spring cleaning can translate to a boost in enthusiasm and a greater ability to concentrate for your team.
Follow these great guidelines for spring cleaning the office, including how to create a plan, enlist your team, and replace well-worn furniture pieces.
Create a Plan
Hold a meeting or send out an email detailing a date and time for when you'd like to have people work on spring cleaning your office. Plan on providing lunch and snacks. Let everyone know what they're responsible for. Assign additional common areas like the kitchen, conference room, and supply closet.
Do a preliminary walkthrough to decide if you'll be shifting furniture around. Now's the time to give that makeshift gathering area a permanent home or find a place for those office files you've been shoving in the back of your drawer.
Make a list of office cleaning supplies and equipment to purchase. Consider a compressed air can for those pesky food crumbs!
**TIP** Provide dust masks for those with allergies or sensitivities.
Enlist Your Team
While your team may not initially be stoked to clean, few would argue against a clean, decluttered space. Promote the importance of an organized office and offer rewards to rev up the enthusiasm! Read about incentives one clever company used to get their team to buckle down and use some real elbow grease.
Keep, Donate, Trash
Tidying guru Marie Kondo makes an excellent point: all the organizational tricks in the world won't help you until you keep what you need and give up what you don't.
Although you may not be asking yourself if every office item brings you joy, you can incorporate elements of Kondo's The Life-Changing Magic of Tidying Up into the cleaning process. Encourage people to rethink crammed cubbies filled with personal items and pare them down to a few meaningful pieces.
A general rule for spring cleaning your office is to make three piles: one for keeping, one for donating, and one for trash or recycling. Depending on the size of your office, you may need to rent a dumpster or hire a trash hauler.
Check out this listing of recyclable office supplies—you may be surprised! Make daily recycling easy for your team with these sleek recycling lids and bases.
**BONUS** For more office organizational tips, click here!
Shred It!
Ask all team members to clean out paper files. Designate one or two people to determine what documents need shredding and provide this list to your team! If your office shredder isn't capable of handling high volumes, consider renting or investing in a larger shredder or hire a shredding service.
Hire Some Help
You may need to rearrange some pieces or at least move them for a thorough cleaning. If heavy lifting or moving is involved, it's wise to invest in a service that will do it for you. The last thing you want is an employee getting injured.
Replacing Furniture
Once the rugs have been shaken and the clutter's cleared away, take a good look at your office furniture staples. That dented metal filing cabinet shoved into a corner is showing its age. Your old wooden desk with its broken drawers and huge nicks and scrapes needs an upgrade. While now may not be the time for a total office furniture makeover, consider replacing these items:
If you aren't doing a complete furniture overhaul, you'll want to choose furniture that blends with your current pieces. Or you may decide to go for a new look and replace furniture in phases. Either way, with so many materials and finishes available, mixing and matching office furniture has never been easier!
Spring cleaning with your team can be fun with the right approach and incentives! Play some tunes, feed your crew, and watch your office sparkle and shine!
The furniture experts at Nolt's are happy to guide you in replacing those old furniture pieces. Stop by our showroom to see the latest exciting sit-to-stand desks, ergonomic chairs, trendy office pieces and much more!