Office Furniture 101: How to Shop for Office Furniture
August 12, 2019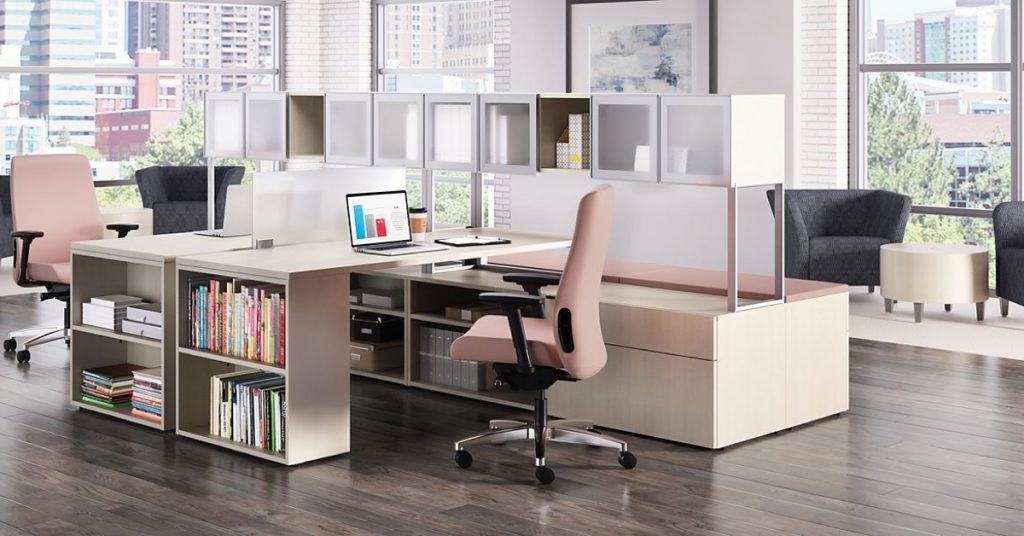 Shopping for office furniture can be a bit overwhelming. There are budgets to consider, people to please, and that's not the end of it; you also have to think about who's going to set it up for you and who's going to take away the old stuff.
To make your office furniture shopping experience as painless as possible, we here at Nolt's have put together this handy little guide to get you going in the right direction.
Develop a Budget
Until you have an idea of what you can spend, don't even bother looking at office furniture. That may sound crazy coming from an office furniture store, but it's the truth. Only after you've developed a ballpark budget can you really drill down into what you can afford and how much furniture you can get. After you've created your budget, you can then start pricing furniture online. But remember: online retailers are typically inflexible with pricing, while office furniture stores (like us) can offer discounts and specials no one else has.
In fact, store suppliers can help save you anywhere from 5 to 20 percent on average over online vendors. The best part, however, is that because brick and mortar stores have living, breathing personnel, you're guaranteed to find great furniture that fits your style and your budget.
Set Parameters for Your Interior Designer
Speaking of style, if you hire an interior designer, make sure you are the one setting the parameters! All too often, interior designers have their own vision in mind rather than yours, and that may end up costing you time and money. Don't deviate from price points, be firm about your color and fabric choices, and don't buckle on style, finishes, or design requirements you may have. Interior designers have a lot to offer and can provide a very valuable service; just remember—you are the one calling the shots.
Buy Furniture in Person NOT Online
As we've said, feel free to research options, prices, and ideas online, but when it comes to making the actual purchase, buy from people not a digital shopping cart. Very often we hear from disappointed customers who have purchased an item that looked great in pictures but was either too small when it arrived, or the colors were significantly different than what was shown to them online.
Also—online catalogs are often rife with furniture lingo and jargon, which means you can get lost in the minutiae of it all. Nothing beats speaking with an actual human being, getting your questions answered, and seeing your new furniture first-hand. From a comfort, quality, and spatial perspective, buying furniture in person makes sense. It's also an investment into the future of your company, so getting it right the first time will save you lots of headaches down the road.
Consider Customization, Installation, and Assembly
 All the furniture sold by Nolt's Office Furniture is delivered, assembled, and set up properly before we leave. If you have an L-shaped desk you'd like to fit into a corner but there's a beam or pole in the way, office furniture stores like ours usually have a pro on staff who can make the appropriate customizations to the furniture so it will fit comfortably (not awkwardly) into your desired space.
Allowing a furniture store to handle assembly, setup, and (most importantly) cleanup lets you focus on what's important—your work—rather than wasting time fitting legs into tables or backs into chairs.
**Bonus Furniture Shopping Tips**
 It would be lovely to waltz into the furniture store, wave your hand around and say, "I'll take it all!" The reality is you have a budget you need to stick to, you have comfort and space considerations you need to take into account, and you may have a boss or manager breathing down your neck to get it all done now.
These bonus tips can help you get it right:
Bring a list to the store that includes: your budget; a description of your company's identity and culture; precise room measurements; special accommodation needs; must-have items (for instance, a sit-to-stand desk); and what you require of the staff (layout expertise, customization, and furniture assembly and delivery service).
Don't go for quantity over quality! Find pieces that serve multiple purposes, like a filing cabinet that can hold a printer.
Always choose function over aesthetics: that edgy retro stool looks super cool now, but how will your office manager feel after sitting on it all day? When it comes to making a long-term investment in furniture, always choose comfort and quality over style.
Choose a layout and furniture that supports your unique office environment. Making your office function at an optimal level should drive your furniture buying choices!
Shopping for office furniture doesn't need to be stressful! By making important decisions before you set foot in the store, you'll have the information you need to make sound decisions with confidence and efficiency. When you're finally ready to make the move, be sure to stop by the showroom at Nolt's Office Furniture and speak with an expert who can help you find the office digs that suit your style, space, and budget.