How to Create the Ideal Homeschool Classroom Layout
September 21, 2020
With so many schools closed or operating on a modified schedule, homes across our region are forcibly morphing into shared work and learning spaces before our eyes as homeschooling and remote work collide under one roof.
Kitchen tables have become ground zero for remote work and home learning. Virtual group study sessions are getting drowned out by daily Zoom status meetings. While we're all living with a good deal of uncertainty, one thing that is certain is students need a dedicated homeschool area in order to learn in this new learning environment.
Make creating the ideal homeschool classroom for your kids a priority now that the new school year has kicked off. With smart furniture and accessory choices, you can easily lay out a homeschool space that helps your child focus and succeed as they work their way through this unique school year.
Put Every Homeschool Essential in Its Place
There's no right or wrong when it comes to creating the ideal homeschool classroom. The key is creating a learning environment that's ideal for your individual child – whatever that looks like. There are, however, ways to set your student up for success. And they all start by gathering the essentials needed to create a quiet, productive workspace.
Here's a quick hit list of homeschooling essentials you'll want to have on hand when you're laying out your homeschooling space.
You can read through a recent article we wrote that goes into the details of why each of these items is important and how to pick out the right ones for your homeschool station. Read the article here: "10 Virtual Classroom Furniture Essentials to Stay Focused and Productive This School Year."
Once you have your homeschool essentials ready, it's time to put them in the right spot and set your student up with a virtual classroom that's as productive as the real thing.
Lay Out a Homeschool Classroom That Works for Your Virtual Learners
First thing's first – location. Pick a dedicated space where your students can do their work each day. The best location for a homeschool classroom is a quiet spot in the corner of a room or an individual room devoid of family member traffic. Not an easy task when your home has to play triple duty as a school, office and living space. But it can be done! Here's how to get started.
Set-up the Desks
Each homeschooled student can co-exist together in one learning space if you create a layout that lets them work independently. Their desk or workspace is the big one. It's where they'll spend a good portion of their day and it'll take up the majority of the floor space you have to work with.
You can look at your desk layout in a couple of different ways.
One option is to set up a long table with a few table-top privacy dividers. Using the dividers, section off multiple workstations, side-by-side down the length of the table – think DIY cubicle walls. In order to achieve the privacy each student needs, the dividers should be opaque to keep them from looking at anything other than their work.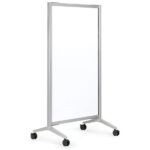 Another option is to place individual desks in your dedicated homeschool space with full-length floor-stand dividers in-between. If you have a bit more floor space, this is a great option to give your kids some extra elbow room. You can even find standing whiteboard dividers so you're adding privacy while making the most of your available space.
With individual desks, you also have the flexibility to use adjustable-height desks. Just like us, kids are going to need to get comfortable while they study. An adjustable-height desk that gives them some flexibility can help them stay focused throughout the day.
Whatever desk set-up you go with, let your students make the space their own. With just a few colorful desk bins, a small corkboard or a whiteboard and some bright-colored markers, and other desk accessories, make it a fun, personal space for your kids to enjoy.
Bring in Light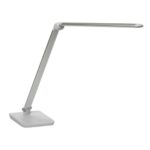 Most homes have limited space to work with when adding a homeschool classroom. If you can, pick a spot with natural light. You don't want your students working in what feels like a dungeon all day. On the flip-side though, don't pick a spot that's so bright that your kids will have to deal with screen glare all day.
You're most likely going to need to bring in light with floor lamps or desk lamps to get the lighting in their homeschool classroom just right. There are great desk lamps available that bring in some additional color and other lights that double as UBS charging stations to make charging devices even easier.
Include Plenty of Storage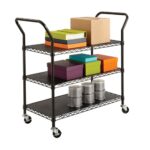 Once your desks are in place with the right amount of lighting, storage is next on this list. Save storage for this point in your workspace layout so you know the amount of floor or wall space you have to dedicate to storage bins, carts, cabinets and bookcases, or any other piece of storage you need.
If your homeschool space is set up for younger students, storage carts, supplies organizers and cubbies come in fun, colorful options. Give them a place to put each item they use during the day so keeping things organized is easy.
For older students, bookshelves are usually a great way to keep books, study guides, a printer and other school items off the desk but still close by. Bookshelves, in particular, make great room dividers. If you have a lot of space to work with, you can use a tall bookshelf or filing cabinet for storage that doubles as a workspace divider.
Power Your Student's Virtual Learning Station with Enough Plugs for Each Device
Homeschool can't happen without connectivity. Laptops, phones and tablets eat up a lot of power on their own. And, zooming into a class or study group will drain devices even faster.
Making sure your homeschool area has enough power sources close by is one of the layout considerations most overlooked. And yet, sometimes the only space you have to work with is void of outlets. In this case, don't alter your layout. Instead, bring the power to your workstation. You have a few options.
Some workspace furniture and accessories have outlets built-in, including desk lamps like the ones we mentioned. Desk accessories with outlets are great because the power source is right there on the desk for your laptop to plug right into.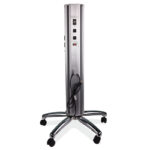 If you really need to pump up the power, bring in a power tower. This workspace accessory will deliver power wherever you need it, giving you more freedom when you're laying out your homeschool classroom. Power towers are also a perfect solution for homeschool stations housing multiple students working at once. No need to fight over wall outlets when the tower gives you plenty of ports to connect.
Our furniture folks at Nolt's are ready to support you as you create the idea homeschool layout. Our showroom is open and stocked with new and used homeschool furniture, so come visit us and create the ideal homeschool classroom for your students today.