10 Virtual Classroom Furniture Essentials to Stay Focused and Productive this School Year
August 13, 2020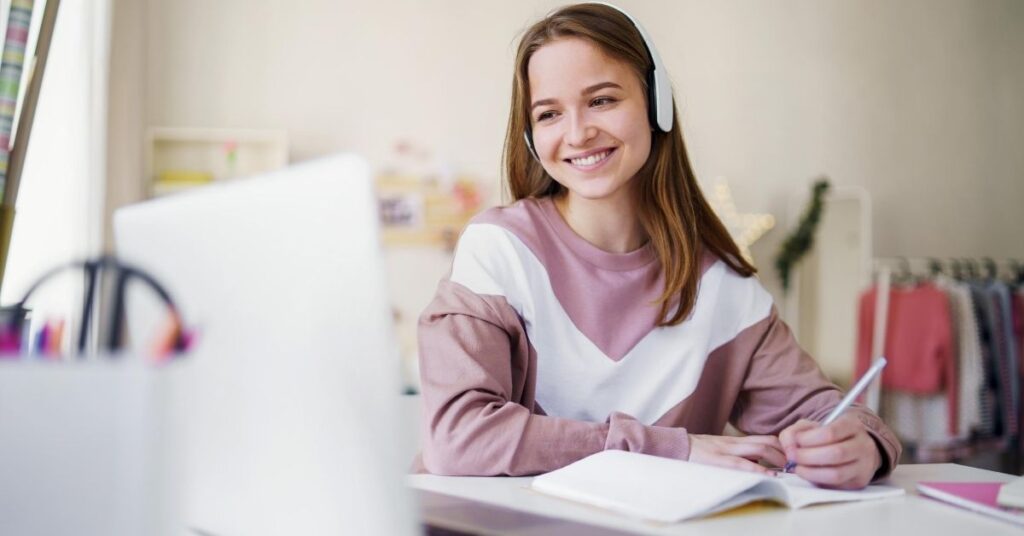 Back-to-school shopping looks a little different this year.
With many school districts in Central Pennsylvania opting for some form of remote learning this fall, kids don't need new backpacks or school clothes. They need all of the virtual essentials to be as productive learning from home as they would be in school. The same goes for thousands of teachers who now need to turn their homes into a virtual classroom.
The Virtual Classroom Should Be Quiet, Comfortable, and Distraction-Free
Virtual learning will only be a success if the home workspace gives kids and teachers the ability to focus. That means limiting distractions, creating visual separation, and making the workspace comfortable.
You can create a virtual classroom pretty easily if you already have a home office set aside. But, what about families with one home office and multiple parents and children all vying for that same quiet space? Or, what about families without a home office at all?
Our furniture folks know how to create productive office spaces. Now, we're helping teachers and parents do the same by helping them design productive virtual classrooms inside the home. To create your own virtual classroom, all you really need is the right location, a little creativity, and a few virtual classroom furniture essentials.
Finding the Best Location for Your Virtual Classroom is Step #1
First and foremost, you need to decide where your virtual classroom is going to live. As we mentioned, virtual learners need a quiet, distraction-free workstation in order to stay focused. Set up your virtual classroom away from the kitchen, hallways and other major hubs in the house.
The best spot is also just as much about size as it is location. A big enough space for students and teachers to walk around, ideally with some natural light coming in, will go a long way in making the virtual classroom a place where they want to spend time.
Productive Virtual Classrooms Need a Few Furniture Essentials
Once you've found your location, it's time to get things set up. Here's our checklist of the 10 most essential items for the virtual classroom.
#1: Privacy Panels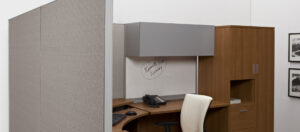 You may have noticed how strongly we feel about privacy when learning from home … there's a reason it's the first essential item on the list. If you do nothing else, invest in privacy panels for your virtual classroom. Students will be far less productive if they're distracted by everything going on inside the house. And, they'll be especially distracted looking around their teacher's home if privacy panels aren't blocking the view.
#2: Comfortable Chair
Comfort is a big essential in the virtual classroom. Students are sitting for long periods of time, which is especially hard for young children who never seem to sit still. A hard, uncomfortable chair will quickly remind you that you still have an hour to go until lunch. A comfortable desk chair, however, will make a long virtual school day (literally) less painful and help students and teachers stay focused.
#3: Standing Desk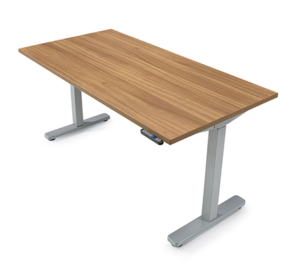 Teachers – you're going to want a standing desk. You don't sit down to teach in your classroom, so the same rules apply when you're teaching virtually. When you're standing up in front of a collage of young faces all 'zooming' into a lesson, keeping them focused requires energy which means you need to be up and moving around. A standing desk will give you a sturdy place to rest your laptop during class but also give you the ability to easily move around and teach like you would if each student were sitting in front of you.
Tip: Do yourself a favor and use an anti-fatigue mat at your standing desk. Your legs and feet will thank you!
#4: Worktable or Small Conference Table
A small work table can be a great addition to a workspace for families with multiple kids all learning virtually at the same time. Small conference tables that sit outside the office still let you work in a distraction-free zone but free up the formal workspace for a student who needs to join a live classroom lesson.
#5: Bookshelves
Organization is everything when you're trying to work or learn effectively from home. A cluttered desk and papers laid out in piles on the floor is a fast way to get nothing done. If your child is sharing the workspace with a sibling or a parent, bookshelves are must-have items for keeping everyone's books, papers, and school supplies well-organized and out of the way. Bookshelves also double as dividers between workspaces. Place a bookshelf in between two desks for added privacy.
#6: Filing Cabinet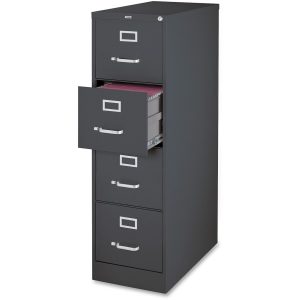 Just like with bookshelves, a good filing cabinet can be a lifesaver for a home office and virtual classroom that needs to keep every member of the family organized.
While you'd assume that virtual learning means paperless learning, that's not always the case. For parents who experienced a taste of virtual learning this spring or have done it before, you know that a fair number of assignments involve printing out a worksheet, writing the assignment, and scanning and submitting the document. A filing cabinet is a great place to store extra computer paper, keep assignments organized and serve as an overflow spot for important papers that don't need to stay front and center throughout the school year.
For teachers, a filing cabinet is a must-have for many of the same reasons. Teaching virtually or partially online still requires paper grading and many of the same admin tasks.
#7: Containers with Lids
Continuing with our push for organization, we can't overstate the importance of storage. Something as simple as a container with a lid can make a workspace more functional. Books, notebooks, computer and tablet chargers, and anything else that would otherwise clutter up a desk can have a home in a container so it's out of the way but always within reach.
#8: Whiteboards
With all kinds of technology at our fingertips, sometimes sketching ideas out by hand is the best way to brainstorm. A whiteboard is one of those virtual learning essentials that will get a lot more use than you think.
#9: Corkboard
A corkboard is another often overlooked essential for home offices and home learning spaces. When multiple family members are using the same workspace, papers can easily get lost. A corkboard is an easy way to make sure loose papers don't wander off. You can also find boards that come in colors and patterns to brighten up the space.
#10 Power Tower
Virtual school is powered by computers, laptops, tablets and other devices, all of which require power. A virtual classroom needs several outlets, especially if it's being shared by a few members of the family. A Power Tower is one of the most convenient essentials so everyone's devices are charged and ready to go every time a new lesson starts.
Our furniture folks at Nolt's are here and happy to help you set up a productive virtual classroom before school starts. Our showroom is open and stocked with new and used home office furniture, so come visit us and start creating a productive virtual learning classroom today.