The Cubicle Comeback
October 21, 2020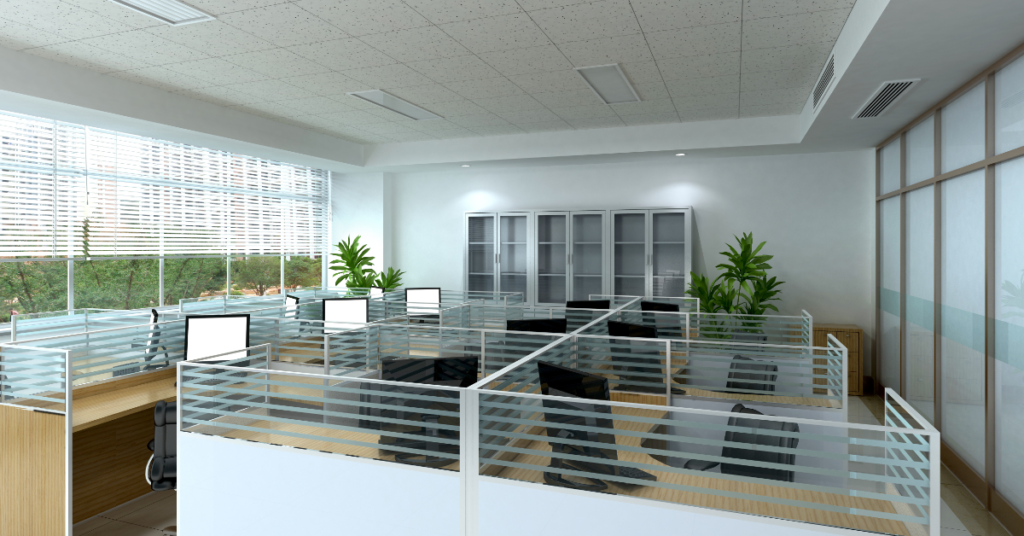 Just hearing the word 'cubicle' is enough to make some office workers cringe. Vivid images of tall grey wall dividers spread out as far as the eye can see – you can feel the creativity being sucked out of each employees' soul.
You'll have to excuse our dramatic take on the old-time cubicle – as you can guess, we're not fans of the traditional office layout where cubicles line the floors. We know a thing or two about the ability of office furniture and office layouts to create a productive work environment, whether at the office or at home. And, cubicle farms aren't it.
Since COVID though, office places everywhere are seeing the comeback of the cubicle and the reinvention of what it means to work in an office. The cubicle comeback is real, and we're happy to report that it's coming back in a great way that's helping employees stay healthy and teams stay connected.
To Understand Where the Cubicle is Headed We Have to Understand Where It's Been
The year was 1968. The president of Herman Miller Research Corporation, Robert Propst, was disgusted by the modern workplace – offices at that time were similar to the open-concept ones we know today. Convinced that open offices zapped creativity and led to distraction and failure, he decided to rethink the office layout.
So, he designed a modular system of work stations that led to the modern day cubicle. A little over a decade later, as businesses grew and needed to fit as many employees into the office as possible, cubicle farms suddenly took over the workplace as we know it.
Since the early '90s, it seems like we've tried every type of office layout imaginable, flipping back and forth between closed and open offices every few years.
Today, it's COVID that's driving the way we think about working in an office. Open-concept work stations, break rooms and meeting pods just don't jive with the need to social distance – leading to the resurgence of our old friend, the cubicle.
If you remember working in a cubicle farm or have heard the horror stories of being boxed in for eight hours a day, you'll be relieved to know that the cubicle's comeback doesn't mean businesses are turning back the clocks to an '80s style workplace. In the age of social distancing, cubicles are being rethought and getting a fresh, modern look to support healthier workplaces.
What Do Cubicles Look Like in 2020?
Today's cubicles are designed to keep employees far enough apart to minimize the spread of COVID-19. This means 6-feet of distance and barriers between employees to keep virus particles from traveling from one employee to another.
Manufacturers are giving companies a ton of design options to create safe and stylish cubicles. Here are some excellent examples of the types of cubicles you can bring into your office to keep employees safe and feel comfortable enough to return to work.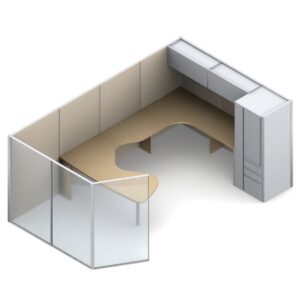 Cubicles can still wrap three walls around a desk without putting employees in a box. Many have clear walls that let light in and feel open. When one or more walls are clear, the office won't look like a cubicle farm – employees will feel that they're working side-by-side with coworkers rather than stuck in a room alone.
The right workstation can create a safe amount of space between employees without closing them off from the rest of the office. Especially if your office has a small footprint, rows of cubicles that create natural barriers between each employee with tall, clear walls to let light in are proving to be both safe and effective.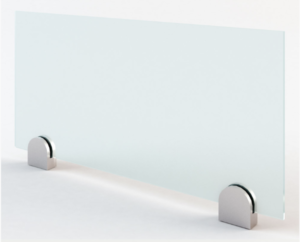 A new way to create walls around an existing desk is with a modular privacy panel. These types of panels often feature stylish, colorful designs – the exact opposite of the traditional cubicle. Privacy panels were originally used for – you guessed it – privacy in open-concept offices pre-COVID. Now, they're being used to create barriers around the sides and fronts of desks that function as a cubicle to keep virus particles from spreading.
Benching tables became big during the open-concept layout boom years ago. If your office still embraces benching tables or if adding cubicles is a hard pill to swallow right now, benching tables with desk dividers are another excellent option. By placing simple dividers between each employee sharing the table, you can still create a healthier office environment that minimizes the spread of viruses.
DIY with a Bookshelf, Desk Hutch, and Panel
Cubicles are essentially just a configuration of office furniture that creates a cocoon around an employee. If you're not ready to completely ditch your existing furniture and instead want to add walls and barriers around your desks, you have options.
A bookshelf is an easy wall to create functional walls around your desk that make physical distancing much more natural.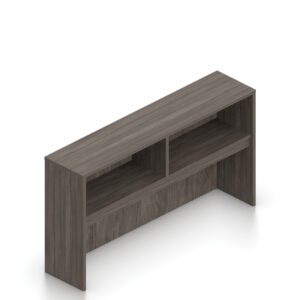 You can find a desk hutch sized to fit around the edge of each employee's desk. The hutch can act as a visual barrier between a row of desks that creates privacy while also keeping germs contained.
With a floor panel – or two or three – you can section off a workspace and surround your employees with the protection of a full-height germ barrier. To avoid adding too many gray wall panels around the office, you can position desks against the wall of the room or separate two desks with one panel to reduce the number of panels you need.
It's Time to Embrace the Cubicle and Get Back to Work Safely
Believe it or not, the post-COVID cubicle is here to stay. Our folks at Nolt's have embraced this new take on the cubicle office and we're excited to make you a believer, too.
Our showroom is open now and stocked with all of your cubicle needs – new and used desks, chairs, tables, dividers and more. Come visit us and talk with our team about how to create a healthy and productive workplace today.