Introducing Our Virtual Showroom!
February 24, 2021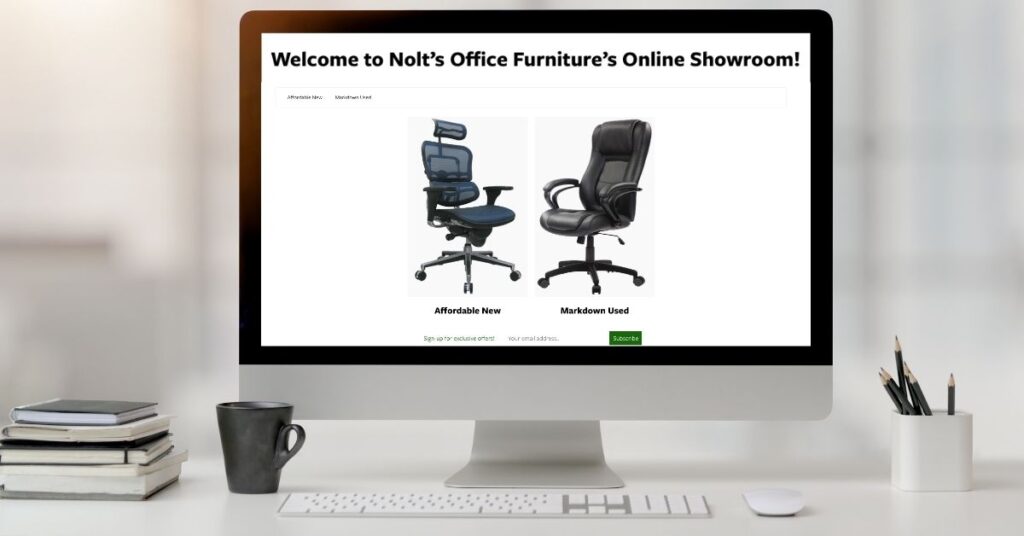 We heard YOU!
Due to an overwhelming number of requests, we are pleased to announce our newly unveiled online showroom. Now, our website makes shopping for affordable new and previously owned quality office furnishings just a few clicks away—any time you want.
Located in beautiful downtown Ephrata, Nolt's has been a part of the Central Pennsylvania community since 1958. For us, the most enjoyable aspect of our work has always been meeting with great people, like you, whenever you came into our showroom. We love helping you with your immediate needs and discussing where you see your business going in the future. Our goal has always been to provide cost-effective solutions–based exclusively on your needs, to help you get there.
We treasure that direct connection. We still want you to come visit whenever you like, but we also recognize that more people than ever are shopping online. Our online furniture store is one more way for us to connect. You can browse our affordable new and our markdown used inventory to make your purchases from your home or office. Naturally, we'll deliver just as we always have.
Things are looking up in 2021!
We all learned a lot last year. We learned we can rise above tough challenges, adapt, and thrive in surprisingly different work environments. We discovered fresh approaches to team up and do business in new ways. When we asked you how we could best support your goals moving forward, you said, "Give us another choice on how to access your office products!" You said, "We would rather do business with you than some big random box store!" You also told us that you prefer to shop locally and support the businesses that have supported our communities for many years.
You shared your thoughts and we listened to every word. Nolt's new online furniture store is now up and running and offers the very same products and responsive customer service as our in-store showroom!
If you know Nolt's, you know we offer a rolling inventory of first-rate new and like-new products. This way, we can proactively respond to demand and offer the furnishings you need at any given time. More importantly, this means we can take advantage of the best deals and pass the savings on to you.
Our online showroom consists of the products we have on hand. You order it, and it will be prepped for delivery right away. When you receive your merchandise, it will look exactly how it looks on the website. If you ever have a question, call us, or just stop by. Not only will you talk to a person, but you'll also talk to someone who is committed to providing first-rate service!
Our online furniture store is available 24-7 to offer you, our valued customers, another reliable way to buy the best affordable new and previously owned furnishings from people you know and trust.
You know what? People are responding. We have been rolling out the online showroom on a slow and steady basis to make sure we are 100% ready for the official launch. Transactions so far have been a breeze, and we aim to keep it that way. To secure the best deals on the best products, bookmark our website and check in regularly. We have a feeling you will be thrilled about what you find.
You are always welcome to come visit us in person, but between visits, you can stay up to date with our latest products and promotions by visiting the new Nolt's Furniture Store 24-7!
Like always, we are here and in person, but now you'll have the ability to visit us whenever you like. So stop by our showroom or click into our new online furniture store. Either way, you'll be treated as a friend and respected business partner.
Happy shopping!