Home Office Essentials for Creating A Productive Work-from-Home Workspace
August 4, 2020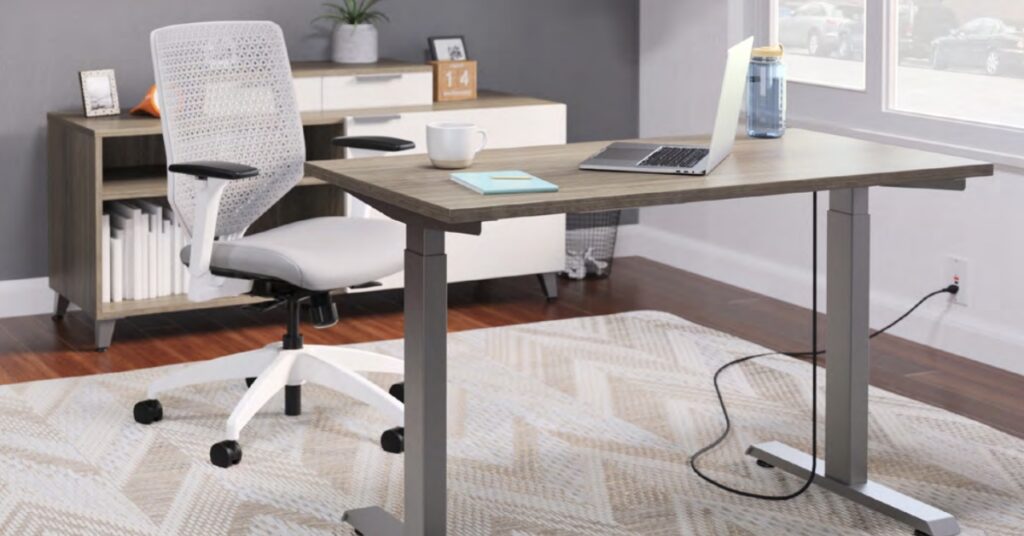 There's a lot of evidence out there right now showing that productivity increases when employees work from home. Many of the news stories and reports citing this evidence, however, seem to glaze over an important fact about what's fueling all of this productivity. Most highly-productive work-from-home folks have one thing in common – a home office.
Not everyone working from home right now is as fortunate to have an extra room available to convert into an office, however. So, if you're working from home without a home office, what's your next best option?
Fear not – you don't have to resign yourself to the kitchen table any longer. With a little creativity, you can effectively section off a portion of an existing room and turn it into a private, productive workspace. Here's how.
Step 1. Find a Corner in a Quiet-ish Room and Set Up Shop
Step one is to find the room with the least amount of distraction. Avoid the kitchen and any other major hub in the home. Also, avoid spaces alongside a hallway where family members will inevitably pass by throughout the day.
A side room or the back corner of a living room away from noise and foot traffic are usually good choices. Believe it or not, a large closet can also make a great home office space. By clearing out the closet and removing the rods, you'll have a desk-sized nook with lots of space to work.
Step 2. Create Some Much-Needed Privacy
Since a workspace with a door isn't an option, do the next best thing and add visual barriers to create privacy. This will also help you to mentally separate work life from home life when the two start blending together.
There are lots of ways to create privacy with visual barriers. Privacy panels are one option. With panels, you can mimic the feel of a closed office by essentially building walls around your workspace.
If you need a visual barrier to get work done but still want to keep the rest of the room looking like a home, bookcases can give you the best of both worlds. Place a tall bookcase along the perimeter of your office. You can position the back of the bookcase to face the office and the bookshelves to face the rest of the room. This lets the visual barrier look simply like a piece of furniture from the outside. Or, turn the shelving side inward for workspace storage. A bookcase over 60-inches in height will provide plenty of visual separation from the rest of the room, letting workers better focus while working from home.
Step 3. Build-in Some Flexibility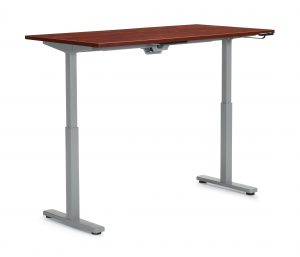 If the home office needs to double as a homeschool workspace, an adjustable height desk is going to give you more flexibility than just about any other piece of furniture. Stating the obvious, the adjustable-height desk will adjust to the right height for each member of the family. Most adjustable desks lower down to standard sitting height so anyone who doesn't feel like standing can pull up a chair and get to work.
Step 4. Create a Comfortable Work Space
Comfort is just as important as function. Employees who work from home spend as much time in their home office as they did in the actual office, so comfort is going to be key to productivity.
Start with where you'll spend the most time – most likely, your chair. An ergonomic desk chair is one of the best investments you can make in your comfort regardless of where your office is located. If the home office chair is going to also be used by the other members of the family, choose one that's adjustable. Many top manufacturers today have highly-adjustable desk chair options. This adjustable mesh office chair, for example, adjusts seat height, arm height, seat depth, lumbar support, and tilt. Everyone in the family can find an adjustment that works for them so everyone can work in comfort.
For standing desks or adjustable-height desks, a cushioned anti-fatigue floor mat makes standing at a desk much easier on your feet.
Or, if you'd rather stand while you work but the kids need to sit to do their school work, find a mat that can accommodate both. A Sit or Stand mat is a rolling chair mat with a cushioned panel that folds over the top when you're ready to stand.
Step 5: Account for Your Tech Needs
The quietest corner in the house may not be well suited for the tech needs of a home office. The workspace you're creating should have an accessible outlet or power source close by. If it doesn't, there are a few options.
One option is to run power to the wall near the workspace and install an outlet. Or, if you're looking for a simpler, less permanent solution, you can invest in a power tower. A power tower is an easy way to bring the power you need to your space. A larger tower also provides several additional outlets so everyone using the workspace can charge their devices for school and work at the same time.
Our furniture folks at Nolt's are here and happy to help with home office essentials to spur productivity as families work and learn from home. Our showroom is open and stocked with new and used home office furniture, so come visit us and start creating the ideal work-from-home workspace.